REGION IV CITIZEN REVIEW PANEL
Region IV Citizen Review Panel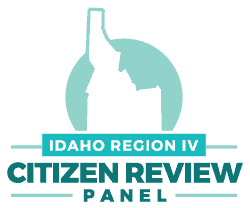 Citizen Review Panels (CRPs) are organized by the Idaho Department of Health and Welfare in each of its seven regions to examine Idaho's Child Protection System and make recommendations for improvement.
Each Citizen Review Panel is also tasked with reviewing all cases brought under the child protective act that have been open in the corresponding district court, or other appropriate local jurisdiction, longer than 120 days.
Each CRP produces a quarterly summary that provides recommendations on how to improve the child protection system.
The Citizen Review Panels are comprised of up to seven volunteers that reside within the boundaries of the region that they support.
The Region IV Citizen Review Panel is now accepting applications.
R4CRP Information – Nov 2023
R4CRP Application
Members of the Region IV Citizen Review Panel are volunteers, with diverse backgrounds, that represent their respective communities. CRP members demonstrate a strong motivation to improve the lives of children through a systems-change lens.
Panel participants undergo an application and interview process and must pass an enhanced criminal background check. Members are asked to complete the online training below:
SWDH – CRP Training
Access CRP Meeting Schedule, Agendas & Minutes
The Region IV Citizen Review Panel meetings are held at Central District Health, located at 707 N. Armstrong Place, Boise, ID.  Members of the public are encouraged to attend meetings virtually.
Note: Any adjustments to the CRP meeting dates and locations will be provided here, in accordance with Idaho Code 74-204(1), Open Meeting Law.
2024 Region IV CRP Meeting Schedule
2024 CRP Special Meetings:
None at this time.

2024 CRP Public Comments:
None at this time.
Region IV CRP Meeting Agendas & Minutes
Can't find the information you need? Please complete the form or send an email to the address below.
Region IV Citizen Review Panel
Mpox returns to Idaho: Health authorities stress importance of vaccination
IDHW and CDH announced the first two reported people diagnosed with mpox in Idaho since last year. Investigation is ongoing, but both persons reported traveling outside the state, which may be related to these diagnoses. Both people diagnosed with mpox are Ada County residents.
Health Officials Investigating Ada County Outbreak Linked to Raw Milk
Central District Health (CDH) announced today it is investigating recent reports of illness in five Ada County residents that may be associated with the consumption of unpasteurized (raw) milk. 
Diving into Water Safety at the Pool
As the summer sun blazes overhead, people of all ages enjoy time in or near a swimming pool for some splashing fun.
Department of Health and Welfare, Central District Health, and Idaho Department of Labor partner to offer services at same Mountain Home location
CENTRAL DISTRICT HEALTH (Idaho) — To streamline services and provide a better experience for customers, the Department of Health and Welfare (DHW) is moving its public-facing office in Mountain Home to a shared location with Central District Health (CDH) and the Idaho Department of Labor (DOL). DHW's office, previously at 2420 American Legion Blvd., will relocate to 520 E. 8th St. N., in Mountain Home, and will begin doing business there on August 17.